News and events
Energy Central back at world's largest offshore wind exhibition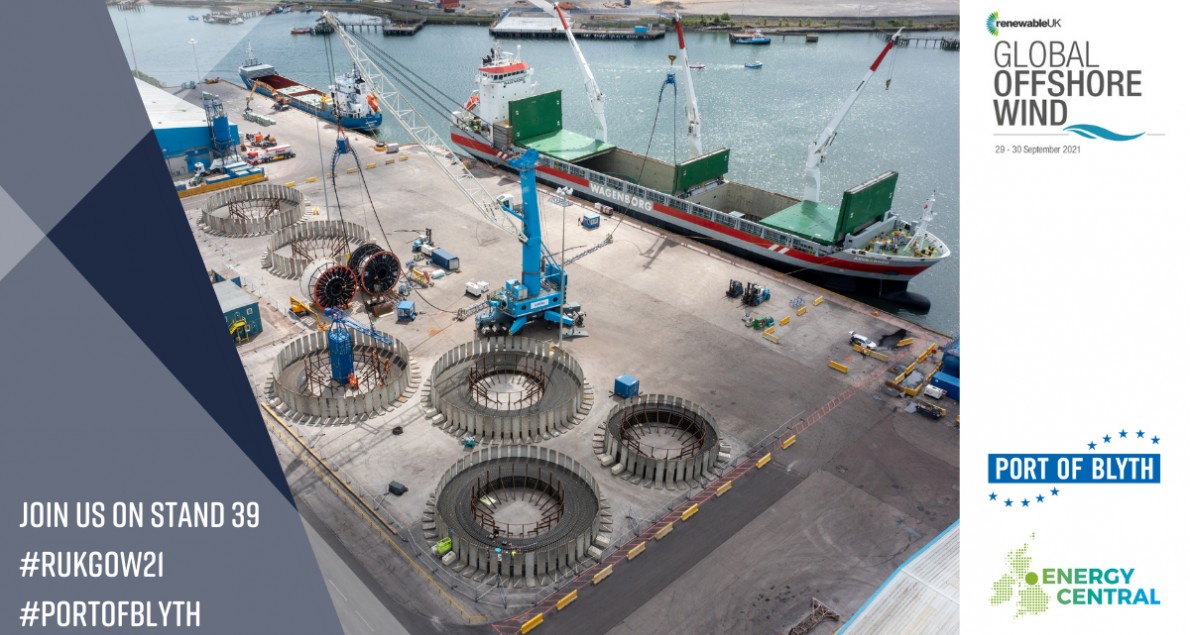 A premier offshore energy location based in Northumberland, Energy Central, aims to attract further investment this month at London's Global Offshore Wind 2021 exhibition from Sep 29 until Sep 30.
Situated on the East Coast of the UK, Energy Central is a partnership between Advance Northumberland, Port of Blyth, Northumberland County Council and the Offshore Renewable Energy (ORE) Catapult which provides access to a unique port-based service, investment and innovation cluster for companies operating in the offshore energy and subsea markets.
The partnership offers a selection of strategic development sites across the Blyth Estuary in Northumberland. These sites, together with a number of key assets such as the Offshore Renewable Energy Catapult's world class Research & Development (R&D) capability, dedicated Port training centre with a wind turbine training facility and a collection of Newcastle Universities research facilities, all make up Energy Central. These quayside investment locations on the Blyth Estuary are well connected by road, rail and air and the energy sector in the area is supported by an established supply chain, a skilled workforce and a pipeline of talent.
Development work at Energy Central is well underway, including the creation a new deep-water dock at Northumberland Energy Park, which is being funded by a £36 million public sector investment alongside the creation of the Bates Clean Energy Terminal investment. It's situated close to the Offshore Renewable Energy (ORE) Catapult at Blyth, which operates the largest concentration of multi-purpose offshore renewable energy test and research facilities in the world. The site is ideally located for offshore wind projects, the decommissioning of oil and gas assets in the Northern, Central and Southern North Sea sectors and fabrication, mobilisation and demobilisation for new and existing oil and gas fields in the United Kingdom Continental Shelf.
Martin Lawlor, Chief Executive at the Port of Blyth said: "We are happy to be-back-face to face at exhibitions to deliver this strategic project. The Port of Blyth has a great deal of expertise and a consistent track record in supporting the delivery of large-scale projects across the energy sector. Energy Central offers an ideal location for companies looking for access to markets including offshore wind energy assets in the North Sea."
Global Offshore Wind 2021 is the largest offshore wind conference and exhibition in the world. The event will be attended by thousands of leading companies within the wind energy sector from all over the globe.
Jeff Watson, Chair of Advance Northumberland said: "This is a fantastic opportunity to again showcase Energy Central at a global level. Energy Central in Northumberland is ideal for energy sector businesses looking to locate and grow in an area that offers benefits including an experienced and ready-made skills base, Enterprise Zone status and a new deep-water quay."
Visit stand 39 at Renewable UKs Global Offshore Wind conference to learn more or please visit: www.energycentraluk.co.uk, email info@energycentraluk.co.uk or call 01670 528 400.