News and events
Offshore wind – powering a new era for Northumberland's economy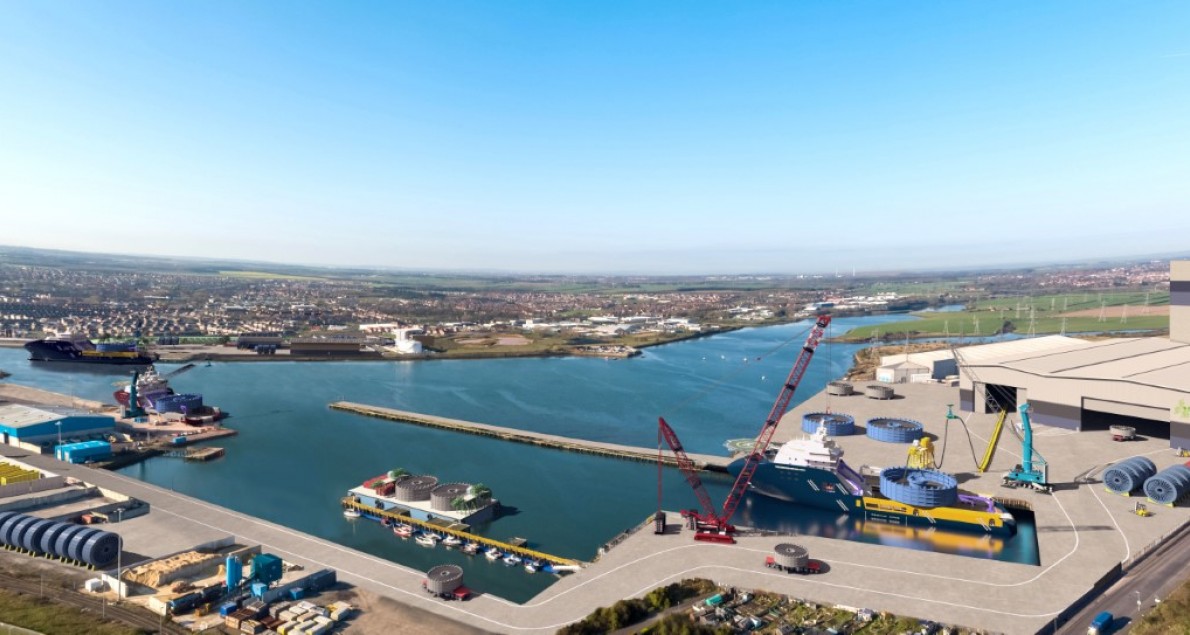 As the UK moves towards achieving Net Zero by 2050, the development of the country's offshore wind sector is accelerating at a tremendous pace.
At a regional level, we know that infrastructure, investment sites, skills, industrial specialisms, connectivity and existing supply chain strengths will all play a part in supporting a global shift towards renewable energy.
And we're proud to say that Northumberland, North East England, is playing a major role in taking the UK's offshore wind sector to the next level – which you can learn more about at Global Offshore Wind this month.
So what's special about Northumberland?
Northumberland and the wider North East of England is already a lead UK region for offshore energy. So much so, that it is recognised by the UK Government as having Centre for Offshore Renewable Energy (CORE) status.
The region already has a well-developed engineering supply chain and a highly skilled workforce with strong engineering and manufacturing expertise.
But in Blyth, Northumberland, you'll find an established cluster which is laying the foundations for even further growth.
Energy Central, is a premier deep water UK base for businesses working across renewable energy, offshore wind, subsea engineering, decommissioning, battery manufacturing and energy storage.
A partnership between Advance Northumberland, Port of Blyth, Northumberland County Council and the Offshore Renewable Energy (ORE) Catapult, it has exceptional sea, rail, road and air transport links, and a well-developed supply chain.
Energy Central has lock free access to the North Sea basin and has more than 50 HA of sites with access to deep water quays.
What's more, it offers excellent access to offshore energy developments in the North Sea, including Round 3 Zone offshore wind projects at Dogger Bank, Hornsea and the Firth of Forth.
Take a tour around the Port of Blyth itself and you'll find five main International Ship and Port Facility Security (ISPS) compliant deep-water terminals with over 1.5km of working quayside to accommodate multiple offshore vessels. The port has a maximum draft of 9.5 LAT and maximum beam of 55m, and jack-up barge capability.
Coupled with this is the port's ability to handle large and complex lifts, and a permanent heavy lift crane capability of up to 400 tonnes.
It's therefore no surprise to learn that the port has worked with clients to deliver large scale product movements, from the world's longest offshore wind blade to the world's most powerful nacelle…
In addition to its extensive infrastructure, Energy Central has a world-renowned R&D offering, which businesses can harness to drive innovation in renewable energy.
It is home to the Offshore Renewable Energy Catapult (ORE), the UK's leading innovation centre for offshore renewable energy, which has unique facilities and comprehensive research and engineering capabilities.
The ORE Catapult offers wind turbine blade and power train testing facilities, electrical infrastructure facilities, subsea and marine testing facilities and an open access offshore anemometry platform – the National Offshore Anemometry Hub (NOAH) – which is located in representative Round 3 conditions, 3 NM off Blyth. The test facilities are underpinned by world class expertise.
The area's heritage as an innovator in offshore wind saw Blyth become the location of the UK's first offshore wind farm in 2000. More recently, EDF's Blyth Offshore Demonstrator Wind Farm adopted gravity base foundations and 66KV cable technology.
The site sits just 6 kilometres off the coast of Blyth and has a generating capacity of up to 41.5MW. It is linked to the EDF substation on the Northumberland Energy Park site, with EDF Energy recently announcing plans to develop out the wind farm further.
New opportunities open up at Energy Central
Energy Central is home to industry-leading offshore organisations including Royal IHC, Enshore Subsea, Global Marine, Osbit, EDF Energy and TEXO Group.
And in December 2020, Britishvolt announced that it will be building its first battery gigaplant at Northumberland Energy Park Phase 3, part of Northumberland Energy Park – a huge vote of confidence in the cluster.
There are exciting opportunities to join these organisations in taking advantage of Energy Central's location, facilities and capabilities.
You can explore 200 HA of strategic, quay linked development sites, including:
Northumberland Energy Park Phase 2
The 35 HA Northumberland Energy Park Phase 2 site in East Sleekburn represents a major opportunity for businesses operating in the offshore energy and logistics sectors. As part of the Northumberland Energy Park site, it benefits from a strategic location and has extensive power capabilities.
The energy park currently has a current power capacity of up to 100 MVA, making it capable of supplying facilities which require large-scale energy use, and renewable energy sources provide much of Energy Central's power.
Northumberland Energy Park Phase 2 is also home to the substation which links the UK to the Norwegian village of Kvilldal, via the North Sea Link – the world's longest subsea electricity link.
Due to become operational in October 2021, it will be capable of transferring 1400MW of renewable power from wind and water resources between the UK and Norway.
Bates Clean Energy Terminal
The development of the Port of Blyth's 17 HA Bates Clean Energy Terminal has enhanced Energy Central's growing reputation as a leading offshore energy support base.
5 HA of fully remediated, prime quayside development land is available at the site for companies who wish to take advantage of its location and facilities.
The terminal is served by two berths which offer up to 7.6m LAT and are capable of heavy lift operations.
In addition, if offers a RoRo pontoon, more than 16,000 sqm of existing warehousing and workshop space, a marine fuels facility and 7 HA of open storage/development land.
Bates Clean Energy Terminal is also home to Port Training Services' unique £1 million Wind Turbine Training Facility, a full-sized, specially modified wind turbine which provides practical training opportunities to the offshore wind industry.
Looking to the future, the terminal will be a centre for a number of low carbon initiatives, including a project to extract heat from mine water, the installation of solar panels and the introduction of a new 120 tonne capacity electric crane.
Battleship Wharf
Battleship Wharf is a 19 HA modern port terminal and rail linked terminal with modern interceptor fitted berths and extensive available land. It is also the Port of Blyth's licenced decommissioning site.
It provides access to four long berths including deep-water berths (9.0 LAT and heavy lift) with port handling equipment including mobile cranes with 100 tonne lift capacity.
The right time to invest in Northumberland
Northumberland was a pioneering region in the industrial revolution.
Fast forward to 2021 and the county's passion for innovation is combining with its manufacturing heritage to create a fulcrum for the UK offshore wind sector, a place where businesses who are revolutionising the energy sector can call home.
For more information on the development sites and Northumberland's offering to the offshore energy sector, visit us at stand 39 at Global Offshore Wind, September 29-30, ExCel London. You can also email enquiries@advancenorthumberland.co.uk or call the team on 01670 528 400.