News and events
Work to Begin on Flagship Clean Energy Hub in Blyth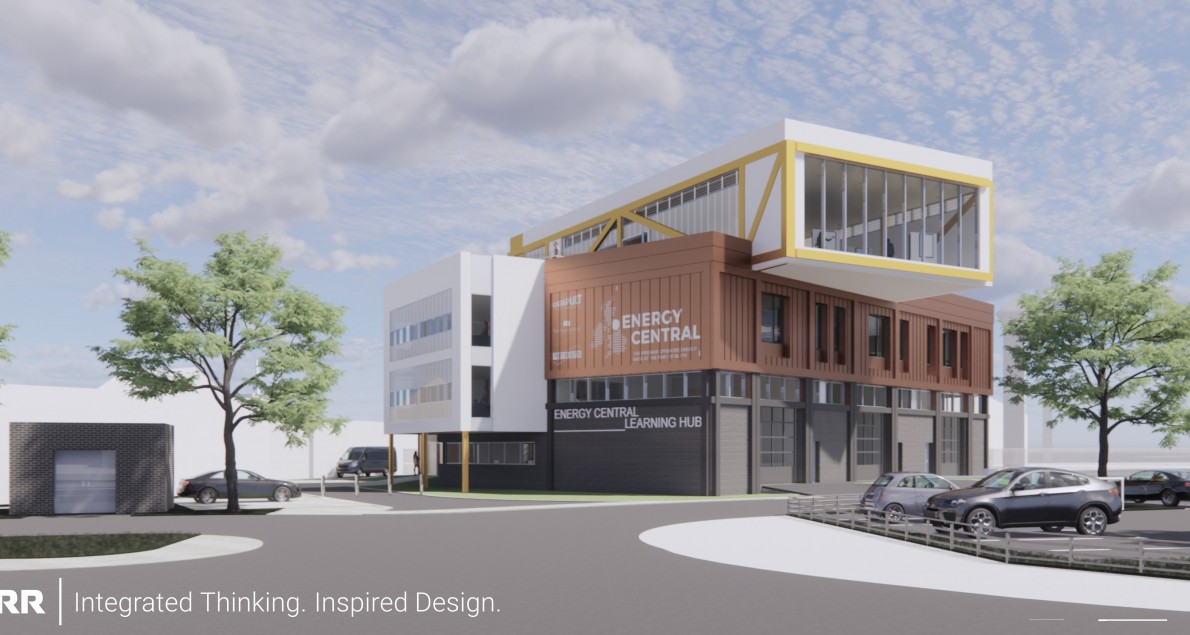 Work will start in February to make way for a new state-of-the-art-learning facility, the Energy Central Learning Hub at the Port of Blyth.
Three buildings at the Port's South Harbour Terminal will be removed. Noise and general disruption to residents, businesses, and wildlife, will be kept to a minimum. This includes using a soft demolition technique down to the eaves level of the Jacobs and Rocket building.
The new 2,396 sqm hub is phase one of Energy Central Campus and will build upon the success of the existing industrial training cluster in Blyth. This adds to the current offer of Port Training Services and STEM Hub, Newcastle University, Northumberland Skills Welding & Fabrication Centre, Blyth Tall Ship and Northumberland College. Businesses will be open as usual, including the popular Caboose restaurant.
Once built, Energy Central Learning Hub will deliver STEM education and sector-related vocational and work-based learning in high-quality specialist training facilities.
It will also house major conferencing capabilities as well as a visitor centre to encourage collaboration between employers, education institutions and Northumberland residents.
Energy Central Learning Hub is a flagship project for Energy Central which is a strategic partnership between Northumberland County Council, Port of Blyth, Offshore Renewable Energy Catapult and Advance Northumberland.
Martin Lawlor, Chief Executive of Port of Blyth, Director of Energy Central and Blyth Town Deal board member, commented: "Speaking on behalf of the Energy Central partnership, we are extremely pleased with how the Energy Central Learning Hub plans are progressing.
"The expansion of dedicated clean energy learning facilities can ensure local schools and residents have the skills to capitalise on the growth of the offshore wind industry.
"The new facility will create a highly visible and easily accessible hub for learners and businesses alike. Local businesses will be very hands-on when the campus is up and running and we plan to have several vocational options available to people wanting to engage in apprenticeships or retrain in the clean energy industry."
Councillor Wojciech Ploszaj, Cabinet Member for Business, at Northumberland County Council, said: "This is a major milestone in the overall Energising Blyth programme which aims to revitalise Blyth and make it a leader in the clean energy sector.
"The new Learning Hub will help us to connect the community to all the fantastic opportunities to work in the clean growth sector."
Eileen Cartie, County Councillor for Wensleydale Ward, Blyth, where the project is located said: "We are thrilled to see that work is beginning on the Energy Central Learning Hub. The facility will be a fantastic addition to Blyth and bring real opportunities for local people to gain the skills needed to land a job in the clean energy sector."
North of Tyne Cabinet Member for Clean Energy and Connectivity and Deputy Leader of Northumberland County Council Cllr Richard Wearmouth said: "The ambition for Energy Central Campus has always been to bring more clean energy skills and jobs to Blyth and the wider region and we are thrilled that work is beginning.
"The green revolution is a huge opportunity for the North of Tyne region and the Energy Central Learning Hub is a huge step in ensuring that our communities have access to the industry responsive skills needed to secure the new jobs of the future. We are proud that the North of Tyne is a part of this exciting new development."
Part two of Energy Central Campus will house a second building, The Energy Central Institute in Blyth town centre. Planning is yet to be submitted for approval, but the proposed project will focus on higher level skills, research and innovation in support of clean energy sector growth.
The Energy Central Learning Hub is part of the £70m Blyth regeneration programme that will revitalise the town over the next five years, delivering new jobs and learning opportunities and helping to drive the clean energy revolution in the UK.
Visit Energising Blyth for more information: www.northumberland.gov.uk/energisingblyth
For information about Energy Central go to https://www.energycentraluk.co.uk/