Case studies
Osbit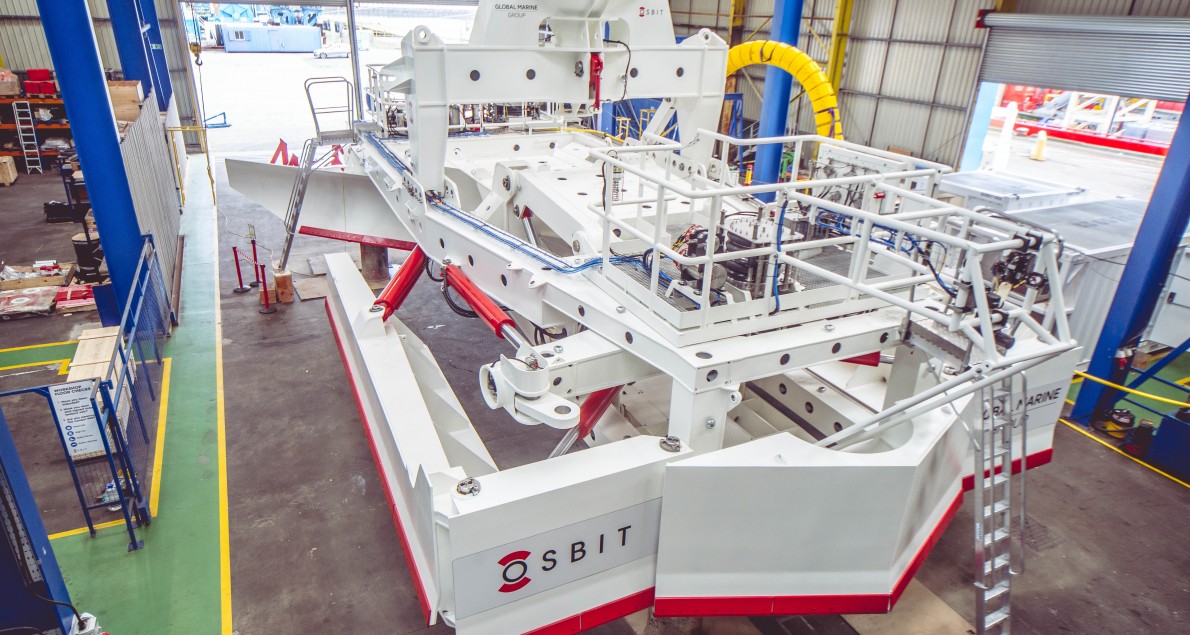 Osbit – perfectly positioned at Port of Blyth to serve the offshore wind industry
Osbit – which stands for On Spec, Budget and In Time – designs and builds quality engineered systems which support a range of offshore wind operations.
The company provides bespoke equipment, including subsea trenching and cable lay solutions, and after winning a large project in 2015 the company signed a lease for a facility at South Harbour, Port of Blyth.
Lucy Gardiner, Marketing and Communications Lead at Osbit, explains why the company chose Port of Blyth and how it has benefitted from being part of the Energy Central cluster .
After winning a project to create an intervention tension frame (which is used in offshore well intervention activities), for a global leader in this field, we decided the time was right to invest in a large facility that would enable us to deliver this and future large-scale projects.
The premises needed to be large, as the tower we were building was around 30m tall, so at the end of 2015 we signed a lease for a 1140sqm facility at the Port of Blyth. Our 110 strong staff are all officially based at our headquarters in Riding Mill, Northumberland, with two staff based at the Port of Blyth. But typically, owing to the projects we have in progress, we have anywhere between 20 to 40 employees working out of Blyth although, currently, this number depends on what is required to comply with current COVID-19 regulations in order to keep everyone safe.
Being a lean company, we pride ourselves in quick turnarounds and because of our application of lean principles we have been able to quickly adapt working processes so we can operate and continue in a safe manner at both our Blyth and HQ sites. During the pandemic we have continued to work with our customers at the Port to complete projects.
Location was also a key factor in our decision for selecting Blyth, as it supports our ambition to support the offshore industry perfectly.
We're able to load out to a vessel or directly onto a boat that will take kit to the vessel. We can also test our subsea equipment outside our facility, which is highly convenient.
In addition, we're within walking distance of offshore customers and potential suppliers, and we regularly work in conjunction with other companies at the port.
For instance, ORE Catapult, which we often work with, is also an Osbit customer. We designed and built a testing rig for ORE Catapult to enable it to test subsea cables. This was built at our Blyth facility and is now installed and in use at ORE Catapult.
Osbit has a heritage in subsea trenching and we continue to have a strong presence in this area. Prior to the pandemic we delivered a subsea trencher to Global Marine Group which is being used on Kriegers Flak in Denmark. It is deployed subsea and digs a trench so that cable can be laid before the trencher covers back over the clay on the seabed, to keep the cable protected.
The port's accessibility and the North East's heritage in supplying products to the offshore and marine sectors, are also strong advantages. It's really great to be based at Blyth and to be looking towards the future of the renewable energy sector.
Having turned 10 in 2020 we have taken the time to reflect and really consider our future - and our goals and ambitions. We're looking to vastly grow the number of projects we deliver and increase the number of projects we can deliver at the same time. This will enable us to support more businesses in the offshore wind and oil and gas industries, as well as other exciting new industries.
We've also been looking to other areas that we could support with our tailored equipment and engineering services, such as the US offshore wind market and floating wind market. There are exciting developments taking place in these markets – and we can provide solutions to support them.
We're also growing our footprint in foundation installation. Offshore wind turbines are getting bigger and more powerful, so installation equipment has to grow in size and capability to support this. In response we're currently working to deliver a hinge system which will lift the monopile upright before it is installed. We are also working on a number of other projects around turbines, such as jackets to keep them sturdy during installation.
Osbit is driven and wants to do things bigger! And our location within the Energy Central cluster in Blyth is supporting our ambitions.
Find out more about Osbit