Supporting a new era in decommissioning
Energy Central's location, midway between Great Yarmouth and Aberdeen, and its exceptional port facilities and infrastructure, make it ideally placed to support decommissioning projects in the North Sea and beyond.
Energy Central can support both oil and gas platform decommissioning and offshore wind turbine decommissioning, which is set to increase significantly through the 2020s as ageing assets in the North Sea are replaced.
In 2019, Blyth Offshore Wind Farm – which was originally built in 2000 – was successfully decommissioned from the Port Of Blyth.
Facilities and Port Capabilities
The Port of Blyth offers vessels of up to 220m LOA and 50,000 DW lock free access to the North Sea basin with no air draft restrictions.
Located on a dedicated 2.3 HA area at the Battleship Wharf terminal, the Port of Blyth's decommissioning facilities are licensed for capacity up to 50,000 tonnes per annum, on a site featuring an impermeable heavy duty concrete base and quarantined areas for hazardous waste including NORM.
The decommissioning facilities include heavy load pads, impermeable surfaces, interceptors, water recycling and bunded quarantine areas.
The Battleship Wharf quay and decommissioning site is suitable for pieces up to 5,000 tonnes with 25 tonne/m2 point loads and uniform loads to 10 tonnes/m2.
Environmental Permit (EPR/RP3337RN) is in place to handle 50,000 tonne of oil and gas assets per year and Environmental Permit (EPR/UB3496DU/ A001) is held for the handling of NORM contaminated materials.
The Port of Blyth offers onsite SPMTs and heavy lift crane capability and can provide in-house structural engineering and dedicated QHSE Management.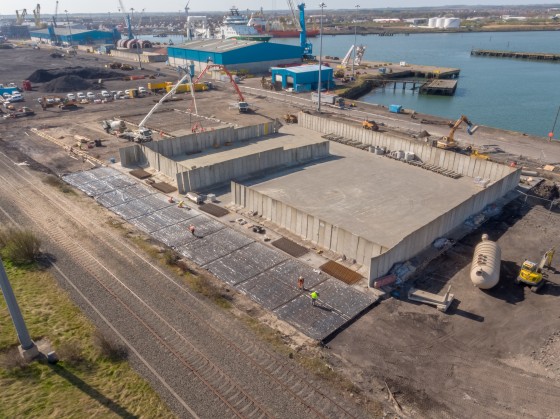 Partnerships and Supply Chain
The decommissioning offering at Energy Central is underscored by the partnership between the Port of Blyth and Thompsons of Prudhoe, a specialist deconstruction, decommissioning, dismantling, demolition, asbestos removal, decontamination and waste disposal contractor operating across the UK.
The partnership is based on quality, safety and performance and enhances the UK's offshore decommissioning capability, providing customers with a highly experienced and dedicated service.
Organisations managing decommissioning projects can also benefit from the skills and expertise of the established supply chain at the Energy Central cluster.